Meetings & Events Calendar
Scroll down to view and/or register for meetings and events:

SEAMASS Board of Directors Meeting Schedule 2020-21
SEAMASS members who are licensed structural engineers are encouraged to consider joining the SEAMASS Board of Directors for the next fiscal year.  Also, any member is invited to sit-in as a guest at an upcoming SEAMASS Board meeting.  Please contact SEAMASS Secretary Aaron Ford to indicate that you would like to attend, and to confirm the meeting time. Board of Directors 2019-20 Meeting Schedule  

January 14 & 21, and March 4, 2021 
Webinar Series (Thursdays) | 11 a.m. - Noon EST
A Steel By Any Other Name:  Stainless Steel & Other Materials
Investment: 
SEAMASS-Certified PDHs:  $25 per webinar (1.0 PDHs) OR $60 for ALL 3 Webinars (3.0 PDHs)
NCSEA Diamond-Certified PDHs:  $30 per webinar (1.0 PDHs) OR $75 for ALL 3 Webinars (3.0 PDHs)
PRESENTATION TITLES & PRESENTERS: 
JAN 14:  Structural Stainless Steel Design to AISC 370
Presenter: Nancy Baddoo | MA CEng FICE | Associate Director, Steel Construction Institute

JAN 21:  Engineering Design of Stainless Steel to the new AISC Specification
Presenter: Michael Mulhern, PE | Founder/President, TriPyramid Structures, Inc.

RESCHEDULED TO MARCH 4:  The Pros and Cons of Gray Cast Iron
Presenter: Robert Vecchio, PE, Ph.D | CEO,  LPI, Inc.

VIEW FULL DETAILS (Presentation Overviews, Presenter Bios, etc.)
REGISTER NOW for March 4 



February 11, 18, & 25, 2021 
Webinar Series (Thursdays) | 11 a.m. - Noon EST
Heavy Metal:  Practical Metallurgy Insights
Investment: 
SEAMASS-Certified PDHs:  $25 per webinar (1.0 PDHs) OR $60 for ALL 3 Webinars (3.0 PDHs)
NCSEA Diamond-Certified PDHs:  $30 per webinar (1.0 PDHs) OR $75 for ALL 3 Webinars (3.0 PDHs)
PRESENTATION TITLES & PRESENTERS: 
FEB 11:  Identifying Weld Crack Causes
Presenter: Michael A. DeLashmit | Vice President | Thornton Tomasetti
FEB 18: AISC 360 Ch. N and AISC 341 Ch. J: The Specifications and the Provisions, How They Work Together, and What You Should Know
Presenter: Mike Gase, SCWI, ASNT III, CFA, LEED Green Assoc. | Corp. Quality Director | Midwest Steel, Inc.
FEB 25: The Metallurgy and Weldability of Structural Steels
Presenter: Robert Warke, PE | Associate Principal | Wiss, Janney, Elstner Associates, Inc. 

VIEW FULL DETAILS (Presentation Overviews, Presenter Bios, etc.)
REGISTER NOW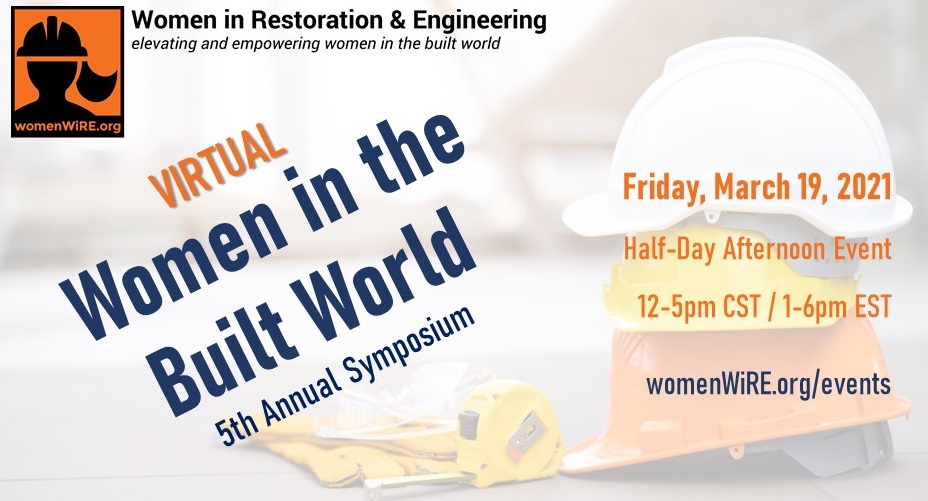 March 19, 2021 
WiRE 2021 Annual Symposium | 1-6 p.m. EST
The Massachusetts Chapter of Women in Restoration & Engineering (WiRE) will virtually host their national organization's Fifth Annual Symposium, titled Women in the Built World, on Friday, March 19 from 1-6 p.m. EST.  Registration opens on February 22; view full event details.
SEAMASS is a proud sponsor of this event. Lisa Davey, PE, SEAMASS Vice President and Chelsea Hoplin, PE, SEAMASS Member and YMG President will present and facilitate a breakout room discussion during the event, titled: Equitable Pathways to Success: Harnessing Data from the SE3 Project.


Important Details for ALL SEAMASS EVENTS:

ONCE YOU HAVE REGISTERED for one or more webinars in any series:
•  Your receipt will be emailed to you immediately.
•  Your access link will be emailed to you before Noon, the day before each webinar.  
•  Each webinar in the series has a unique access-link.
IF YOU WISH TO EXPERIENCE A PRESENTATION BUT CANNOT ATTEND LIVE:
•  You may register/pay, and will receive a link to access the recording, following the event 
•  This is a great way to expand your professional development resource library!
•  Only live-attendees can receive PDH certificates.

Other Professional Development Event Themes
Currently Being Planned for 2021:
Masonry
Fiber Reinforced Structures
********************
VIEW OTHER EVENTS:
Visit the

RESOURCES & LINKS

page to view other organizations' websites to view upcoming events.

EVENT SPONSORS
Click logos to view websites

JANUARY 2021 
Webinar Series SPONSORS:

About Girder-Slab: 
Utilizing proven materials that have long been used by the construction industry, the GIRDER-SLAB® system provides a cost-effective low floor to floor height solution for mid and high-rise residential construction.
You design it. You Fabricate it. You Build it.  Visit girder-slab.com

About TriPyramid Structures, Inc.:
TriPyramid Structures is a design, engineering, and fabrication firm founded in 1989. The company specializes in architectural features with a high degree of fit and finish or difficult geometry. Our work is featured on a wide range of unique projects around the world. Visit tripyramid.com

EVENT SPONSORS WELCOME
Contact marketing@seamass.org

THANK YOU for Your
Support of SEAMASS